Name: Vicki "The Vixen"
Date of Birth: January 13th
Status: The Vixen Nightclub owner, Devil's Coal dealer
Unit: Handguns
SBUI (Subject Behavior Under the Influence): Short distance teleportation
Alignment: Neutral
Likes: Money, wine, velvet, lipstick
Dislikes: Whining, red meat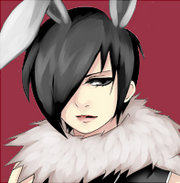 The Vixen is an attractive woman that owns the Vixen Nightclub, an after-hours electronic rave. Though her female workers are eccentrically dressed, the Vixen dresses much more simply, featuring a pair of bunny ears and a white boa. An audience with the Vixen is highly sought after, as she doesn't allow just anyone to appear before her.
Vicki is the female sex icon of the CODE series. Her voice is sensual, silky, and she often uses pet names when talking to others. She is a notorious Black Market dealer, very famous for getting her hands on anything that brings in money. Her nightclub functions as a cover for her side business in dealing many illegal items, such as Devil's Coal.
Vicki wasn't always a woman of such wealth and power. Before she owned her own nightclub, she was a high paying prostitute. While she knew the value of her services, she knew what was worth much, much more: information. With her cunning mind and impeccable charm, she clawed her way to the top of the food chain. 
Relationships
Edit
Amil: